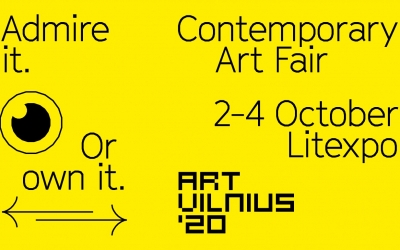 ARTVILNIUS'20
2020 Octobrer 2–4
Opening hours

Friday, October 2
11:30 – 20:00

Saturday, October 3 d.
11:30 – 19:00

Sunday, October 4 d.
11:30 – 18:00

*October 2 d. Friday, VIP preview
11.30 -14.00 val.

October 2 d. Friday  Entrance with tickets
14.00–20.00

l.

Lithuanian Exhibition and Congress Centre LITEXPO.
In response to the global threat of COVID-19, it has been decided to postpone the date of this year's  ARTVILNIUS'20 until 2-4 October 2020! TICKETS AVAILABLE ONLY ONLINE !
The international contemporary art fair ArtVilnius is the largest event of visual arts in Eastern Europe. The 11th edition of the Fair will take place on 2 -4 October 2020, at the Litexpo Exhibition and Congress Centre.
ArtVilnius is a place where art collectors, professionals and art lovers can discover a vibrant art scene not only from Baltic and Eastern European countries, but also meet galleries and artists from France, Germany, Italy, Austria, etc. Collectors enjoy special attention from the organisers and are treated to an exclusive VIP programme during the fair and in the city.
"Of course, the most important objective for ArtVilnius, like for other fairs, is to sell art. However, we also emphasise the importance of the informal side of ArtVilnius. During the Fair, we always organise a lot of additional events, where we invite our participants, art collectors, business people, partners and journalists for new connections and conversations", says ArtVilnius director Diana Stomiene.
Each year, the ArtVilnius Selection Committee chooses around 60 galleries to exhibit their artworks in stands ranging between 30 and 50 square metres. The total area of the Litexpo venue is 12,000 square metres providing optimal architectural solutions. The affordable booth prices and their customisation to each participant's needs make ArtVilnius an attractive art fair for many emerging and already established art galleries.
The last ArtVilnius'19 edition hosted as many as 65 art galleries and 300 artists from 20 countries, and the French art scene which became one of the most important accents of the 10th-anniversary art fair. During four days, the Fair was visited by 23.1 thousand visitors.
Along with the main gallery programme, ArtVilnius'20 will traditionally organise several projects and events: 'The Path' international exhibition of installations, sculptures and performances; awards for best artists and galleries; meetings and discussions. Institutions will present their artworks in dedicated project spaces and visitors will be treated to a retrospective of the best young artists from the ten years of ArtVilnius. During after-Fair hours, the organisers will be inviting everyone to night tours to explore galleries, museums and other events in the city of Vilnius.
During its first decade of existence, ArtVilnius hosted such famous galleries as Suzzane-Tarasieve, Eric Mouchet (France), Ulf Larsson (Germany), Maksla XO (Latvia), Stalowa, Czułość, local_30, (Poland).  Among others, the ArtVilnius project zone had previously welcomed the Museum of Contemporary Art in Kraków MOCAK, the Łaźnia Centre for Contemporary Art in Gdańsk, Vladimir Tarasov (Vilnius-New York), Zuzanna Janin (Warsaw), S&P Stanikas (Paris-Vilnius), the Jonas Mekas Visual Arts Centre, and the Vilnius Modern Art Centre. Famous artists – Hans Op de Beeck, Jake & Dinos Chapman, Bertrand Lavier, and others – are presented by the Lewben Art Foundation of the Fair's exclusive partner, the Lewben Group's.
ArtVilnius patron – Vilnius City Municipality, sponsor – the Lithuanian Council for Culture.
More information www.artvilnius.com
Organisers:
Lithuanian Art Gallerists' Association
Office address: J. Basanavicius g. 1/13, LT – 01118, Vilnius
Phone/fax.: +370 5 2610975, +370 640 38 221
E-mail: info@artvilnius.com