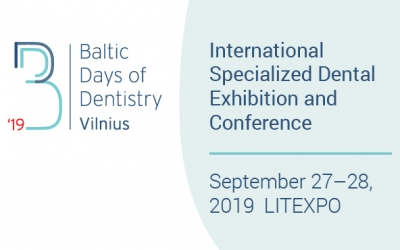 BALTIC DAYS OF DENTISTRY 2019
2019 September 27–28
Opening hours
Lithuanian Exhibition and Congress Centre LITEXPO.
The International Dental and General Medicine Exhibition, which has been organised by LITEXPO for over 20 years, is changing and reinventing itself.
From 2019, the focus of the exhibition will be specifically on dental medicine and it will become the only international specialised event in the Baltic States – BALTIC DAYS OF DENTISTRY – with a goal of demonstrating the rapid progress of this field of medicine, global dental innovations and the development of technologies.
BALTIC DAYS OF DENTISTRY is:
– the only specialised exhibition–conference in the Baltic States attracting Lithuanian and foreign dental medicine specialists, scientists and businesses;
– all dental and oral care sector novelties, innovations and related techniques;
–  the two-day international scientific conference to discuss the most advanced treatment methods, and the latest technologies and solutions. World-renowned specialists and scientists will make presentations on the most relevant subjects during the conference;
– the largest dental service and product companies from Lithuania, Latvia, Germany, Poland, Romania and other countries;
– relevant first-hand news and product presentations in the seminar area.
Save the date ! September 27–28, 2019, Vilnius, LITEXPO Exhibition and Congress Centre.  Let's meet at the most important dental medicine event in the Baltic States – the international exhibition–conference BALTIC DAYS OF DENTISTRY 2019!
Further information: dental@litexpo.lt