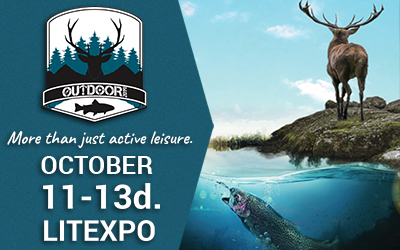 Outdoor
2019 October 11 - 13
Opening hours
Lithuanian Exhibition and Congress Centre LITEXPO.
Hiking, water sports, yoga and many other sports activities are becoming an integral part of our lives. How do you not get lost among the various options? What boots should you choose for skiing? What fishing rod is most suitable?
OUTDOOR is an exhibition centring around leisure and beyond. The OUTDOOR exhibition features the latest active leisure trends, equipment and advice from exhibitors with international experience.
The exhibition is divided into 2 specialised themed halls – hunting, fishing and active leisure. Apart from the exhibition, visitors will be also able to enjoy seminars and a variety of entertainment.
What makes participating at the exhibition worth it?
The possibility to present innovations and latest trends to a target audience during the exhibition
The exhibition brings together the largest weapons manufacturers and dealers in the EU and other countries
New contacts and collaboration with other market participants
The possibility to establish contacts with potential buyers
The exhibition will be taking place at Litexpo on 11 and 13 October 2019.
More information and registration coming soon.