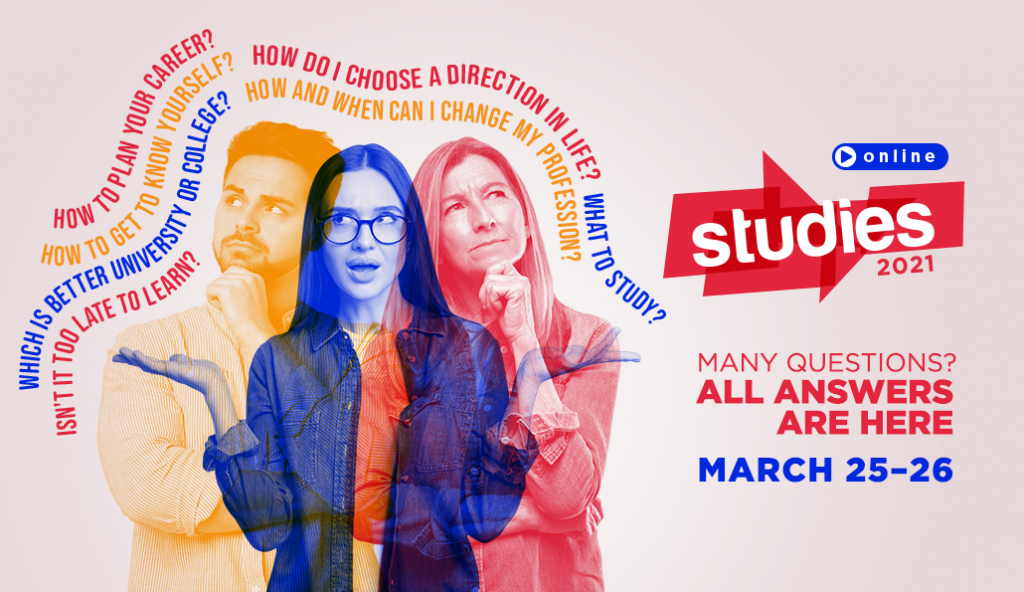 STUDIES 2021
2021 March 25–26
Opening hours
Lithuanian exhibition and congress centre LITEXPO
What to study? How to plan your career? How to get to know yourself? How do you make sure you are needed in the future? How do you choose an occupation that you never have to regret? These and all other questions are asked by many young people at the crossroads of their future path. Have many questions? Find answers to your questions at the 19th International Exhibition of Knowledge, Education and Career Planning Online Exhibition STUDIES.
ONLINE EXHIBITION – A NEW APPROACH TO QUALITY AND VALUES
International Exhibition of Knowledge, Education and Career Planning Exhibition STUDIES will be held online and the program of virtual events will be broadcast live on different channels. This year the exhibition was renewed and supplemented with new relevant topics. We invite scientific and educational institutions, non-governmental organizations, associations and businesses to speak, discuss, present projects and create events.
STUDIES 2021 is the largest study and career planning exhibition in Lithuania and the Baltic states. The exhibition gathers huge selection of learning services as well as additional possibilities:
Lithuanian university, non-university, and vocational higher education schools;
Educational and expert organizations;
Foreign universities;
Businesses, non-formal education, career consultations;
Language courses;
International examinations and other alternatives, such as travelling, volunteering and gap year.
STUDIES 2021 will occupy four online rooms:
ONLINE ROOM 1: Higher university and college education in Lithuania.
ONLINE ROOM 2: Career planning fair.
ONLINE ROOM 3: Lifelong learning.
ONLINE ROOM 4: International study programs, language courses, international examinations and etc.
See you in March 25–26, 2021!