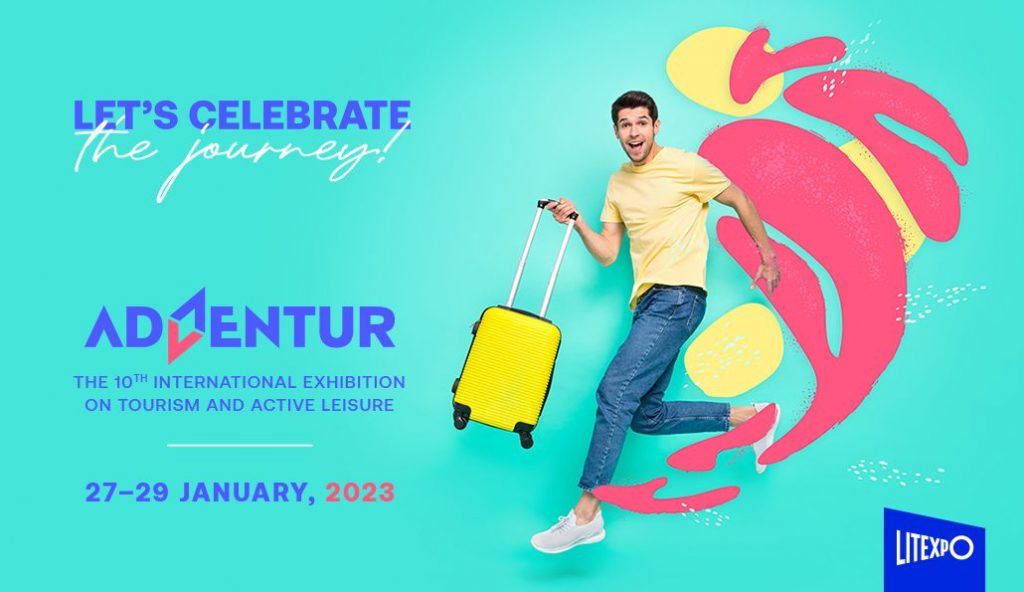 ADVENTUR 2023
2023 January 27–29
Opening hours

27 January 10:00-19:00

28 January 10:00-19:00

29 January 10:00-17:00

Lithuanian Exhibition and Congress Centre LITEXPO
The 10th Anniversary ADVENTUR 2023 International Tourism and Active Leisure Exhibition!
ADVENTUR is the only international tourism, travel and active leisure exhibition in Lithuania promoting tourism services and active lifestyle. Here you will find all the elements of a successful tourism business "under one roof": a large number of visitors interested in holidays and recreation, opportunities to establish business contacts and find business partners. The theme for 2023 is "Celebrate the Journey", the freedom to celebrate life and to embark on long-awaited journeys without postponing them for the future. We invite you to share your travel experiences and news about new ways and forms of travel. We will embark on a three-day journey around the most prominent places in Lithuania and the world.
In 2023, Lithuania will celebrate the 700th anniversary of Vilnius. Let's create a spectacular celebration that reflects the spirit of the city: freedom, tolerance and multicultural harmony. Let's celebrate in a way that spreads the word about Vilnius and ADVENTUR's anniversary around the world.
Exhibition themes:
GET TO KNOW LITHUANIA
Urban tourism;
Rural tourism;
Spa, wellness and medical tourism;
Accommodation services;
Authentic Lithuania.
REST ACTIVELY
Amusement parks and leisure centres;
Water, extreme sports, hunting, fishing equipment;
Leisure vehicles;
Riflemen's Union.
DISCOVER THE WORLD
Holidays, sightseeing trips to foreign countries;
Individual tourism;
Rail transport services;
Airlines.
Contacts: