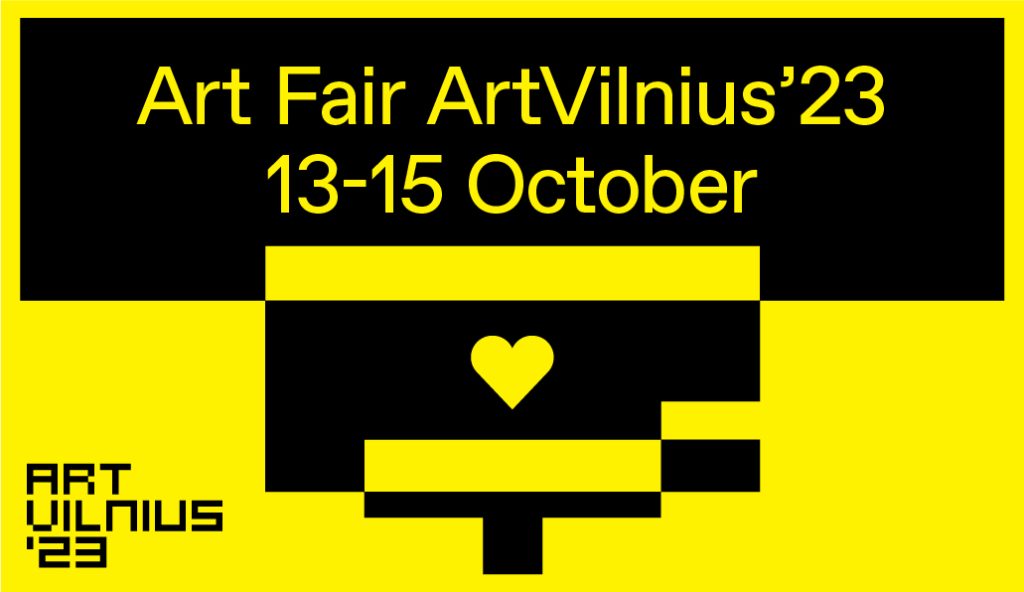 ArtVilnius'23
2023 October 13-15 d.
Opening hours

October 13, Friday      14.00 a.m.–8 p.m.

October 14, Saturday  11.30 a.m.–8 p.m.

October 15, Sunday    11.30 a.m.–6 p.m.

Lithuanian Exhibition and Congress Centre LITEXPO.
The international contemporary art fair ArtVilnius'23
The international contemporary art fair ArtVilnius'23 will take place between October 13–15. This year, the fourteenth edition will inhabit the three main halls and outdoor areas of the Lithuanian Exhibition and Congress Centre LITEXPO, covering 12,000 square meters in total and consisting of 70 art galleries/institutions and 300 artists from 18 countries.
Every year, ArtVilnius has a certain theme it wishes to highlight and this year's theme is performativity. The context of the art fair will provide an opportunity to look at the concept of performativity openly and creatively, discussing the broadest interpretations of this term.
In addition to the main programme of contemporary art galleries, ArtVilnius'23 will also present many other projects. Hall 4 will host the ArtVilnius Project Zone curated by Valentinas Klimašauskas, showcasing exhibitions of institutions and artists. The three-day programme——Today, Yesterday, Tomorrow—related to different interpretations of performativity, will present a diverse line-up of institutional and guest contributors: E. A. Shared Space (Tbilisi), European Humanities University Theatre (Vilnius), Georg Kargl Gallery (Vienna), Kim? Contemporary Art Centre (Riga), Medūza ir Draugų Vardai (Vilnius), Vilnius Performance Art Biennial (Vilnius), Jonas Mekas Visual Arts Centre (Vilnius), MOCAK Museum of Contemporary Art (Krakow), Contemporary Art Centre (Vilnius), and Stasys Eidrigevičius Arts Centre (Panevėžys). We will see the same guest authors on the same stage at the same time, three days in a row: The European Humanities University Theatre, Konstantin Bogdan, Paulina Pukytė, Agnė Jokšė and Monika Kalin.
The sculptures, installations and performances of The Path, an exhibition curated by Vytenis Burokas, will feature 16 artists and be on display throughout the entirety of the fair. The exhibition will present projects from AIROS, Andrius Erminas, Audrius Janušonis, Barbora Matonytė, Dainius Trumpis, Eglė Rakauskaitė, Gediminas Pašvenskas, Julija Pociūtė, Maciej Gąbka, Mari Manna, Marija Griniuk, Monika Žaltkauskaitė-Grašienė, Rokas Janušonis, Rokas Pralgauskas, Severija Inčirauskaitė-Kriaunevičienė, and Žygimantas Augustinas.
This year, the art fair's programme welcomes the participation of the National Opera and Ballet Theatre and the European Film Forum Scanorama, as well as welcoming back the popular Young Collector's stand. Publishing institutions important for the art market will also showcase themselves.
During ArtVilnius'23, an international jury of art professionals and visitors will select the best galleries, artists and works of art. The interactive LRT studio will host live discussions, lectures and presentations on various art topics.  You can browse through the works in advance using the fair's electronic catalogue of participants at www.artvilnius.com/en/catalogue.
All Fair's participants: https://artvilnius.com/participants/
ArtVilnius'23 is organized by the Association of Lithuanian Art Gallerists, headed by Diana Stomienė with artistic director Sonata Baliuckaitė. ArtVilnius'23 is funded by the Lithuanian Council for Culture and patrons Vilnius City Municipality and COBALT. The main partner of ArtVilnius'23 is LITEXPO.