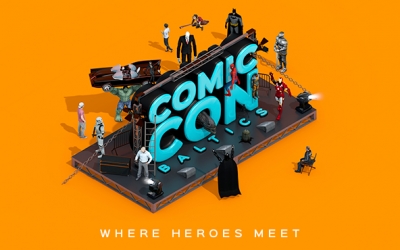 Comic Con Baltics 2017
2017 December 2–3
Opening hours
Lithuanian Exhibition and Congress Centre LITEXPO.
Comic Con Baltics – the biggest pop culture event in the Baltic States. It will take place on 2-3 December in Vilnius, Lithuania, exhibition centre LITEXPO. The latest and hottest news from cinema industry, TV series, new technologies and computer games will be presented during the event. As in others Comic Cons, that are happening in other countries, the attendees of Comic Con Baltics will have the unique possibility to meet and greet their favourite movie and TV stars. Actors and other special guests from popular TV and cinema projects will be updated regularly, up to the date of the event. Don't miss your chance to get the cheapest tickets now, before they're gone!
During the event everyone will be able to see special previews from the upcoming movies and TV projects, computer games, to see the special featurettes and trailers, prepared just for Comic Con Baltics. Every attendee will be able to see the daily life of a movie maker, to know how a film set looks like, to siti n a make-up chair or see a performance of a stuntmen. Visitors will also see the biggest Cosplay championship.
Every attendee will have a chance to visit an interactive zone of new technologies and game zone, to see the newest of games and remember and play some old school computer games. Besides that, everyone will be able to see and feel what was never in Lithuania – unconventional, unique cinema halls that will bring up absolutely different experiences of motion capture cinema.
The event will also be educational because every visitor will be invited to participate in special workshops where professionals of their art will share their experience. Visual effects artists, comics artists, cameramen, sound effects specialists, screenwriters and Professional gamers will share their insights on what they are doing for living. In some other workshops people will be able to learn how to build their own costumes or how to free their imagination and put it down on paper and so on.
Comic Con Market will be an exclusive area where everyone will find what they want. This will be a place where a person can find a lot of things for presents and avoid the Christmas time madness in a shopping hall, whilst finding something different, unique, maybe even some collectibles. And, the most importantly, everybody will have their chance to meet the heroes from their childhood or just a popular actor from cinema or TV series, get their autograph and seize the moment with the star in a professionally done photographs.
Don't miss your chance to get the cheapest tickets now, before they're gone!
Comic Con Baltics – Where Heroes Meet.