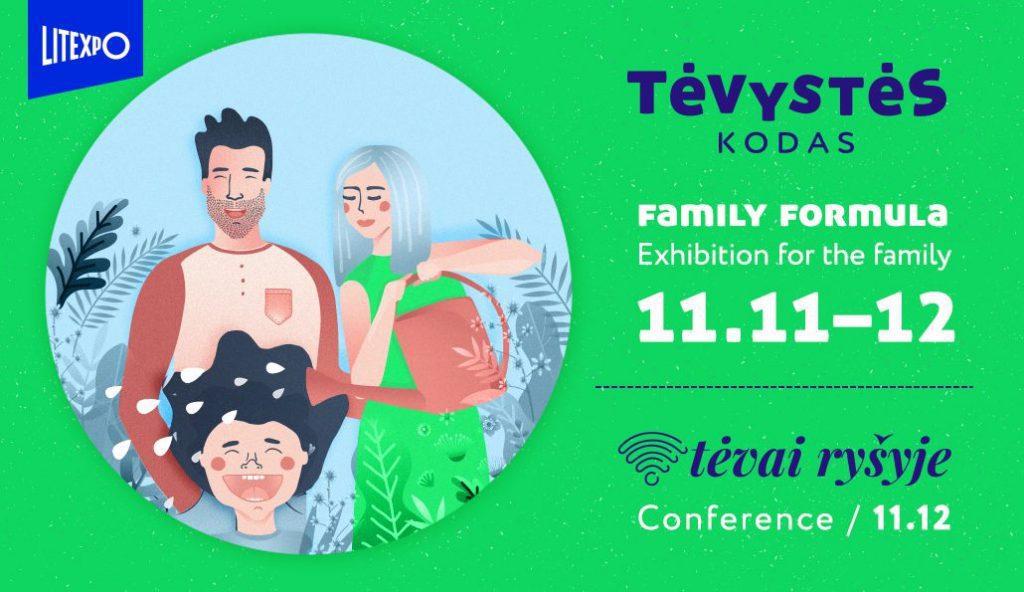 FAMILY FORMULA 2022
2022 November 11-12
Opening hours

11 of November 10.00 a.m. – 6.00 p.m.

12 of November 10.00 a.m. – 6.00 p.m.

Lithuanian Exhibition and Congress Centre LITEXPO.
HELP TO GROW: with this slogan, the educational exhibition conference 'Family Formula 2022' on 11–12 November invites current and future parents who are interested in a positive attitude towards family growth and who want to learn more about responsible family planning as well as the raising, upbringing and education of children.
The aim of the event is to bring together communities of parents, specialists, market representatives and influencers and to reveal the real problems of family planning and the education of children, to discuss ways to solve them and to form the foundation of positive parenting. Two days of education await you:
On 11 November: a plethora of presentations at the LITEXPO Conference Centre.
On 12 November: an educational conference TĖVAI RYŠYJE with Renata Cikanaitė, a lecturer, presenter of the radio station "Žinių radijas" show "Tėvystė praktiškai" and author of parenting programmes and the conference "Tėvai ryšyje".
Presentation space: thematic presentations for expectant families, families with newborns and families raising children from 1 to 4 years old.
Exhibition: a wide range of quality goods and services not only for children, but also for the whole family.
Entertainment area for the family: games, creative workshops, educational activities and events for family recreation.
Any questions?
Contact us: tevysteskodas@litexpo.lt
PARTNER


MEDIA PARTNER