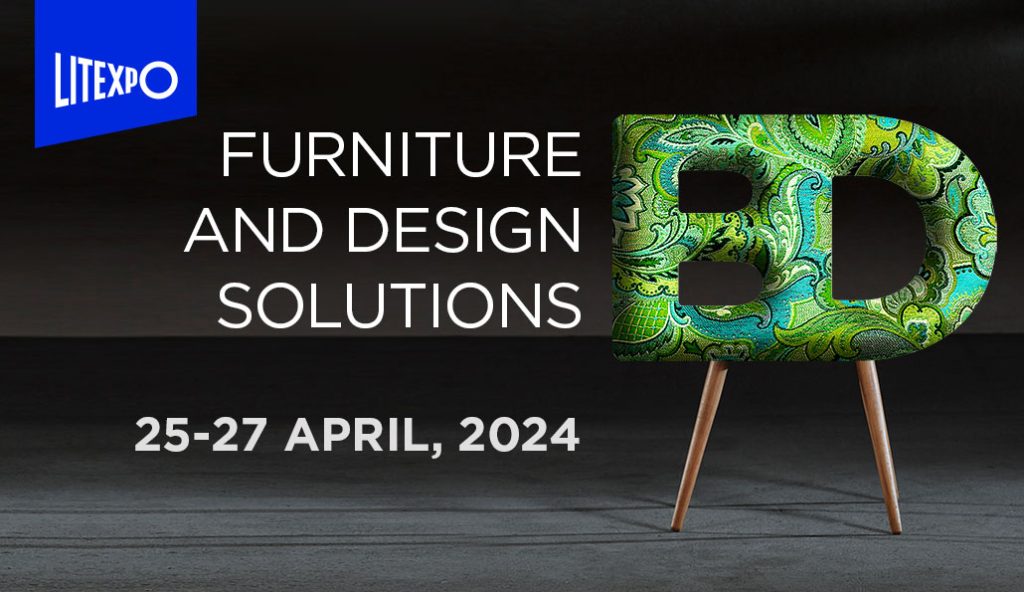 FURNITURE AND DESIGN SOLUTIONS 2024
25-27 April, 2024
Opening hours

10:00-18:00 25-26, April

10:00-16:00 27, April

Lietuvos parodų ir kongresų centras LITEXPO, Laisvės pr. 5, Vilnius.
REGISTRACIJA DALYVIAMS
2023 statistics: 1826,5 sq.m. area

2023 statistics: 19280 visitors

2023 statistics: 52 participants
For exhibition participants
FURNITURE AND DESIGN SOLUTIONS stands as one of the most significant specialized exhibitions in the Baltic States, focusing on furniture, interior, and design. This event unites professionals from the design industry, furniture manufacturers, interior architects, and clients alike.
In this era of rapid change, our perspective on home environments is evolving. Designers and architects now place a premium on innovation, functionality, sustainability, authenticity, ergonomics, and aesthetics. These factors are pivotal in their quest to fashion environments that are space-conscious, seamlessly accommodating not just living but also working, relaxing, and entertaining.
We extend a cordial invitation to join us at the FURNITURE AND DESIGN SOLUTIONS 2024 exhibition. It's a unique opportunity to engage with the latest multifunctional furniture, original designs, interior trends, materials, and intricate details that cater to the shifting demands and lifestyles of today's individuals.
Here's why you shouldn't miss this exhibition:
It stands as the sole specialized furniture exhibition in the Baltic States.
You'll have the platform to unveil your latest product offerings to the market.
This is your chance to connect directly with your target consumers.
Elevate the visibility of your brand in a meaningful way.
Forge valuable partnerships that can pave the way for future success.