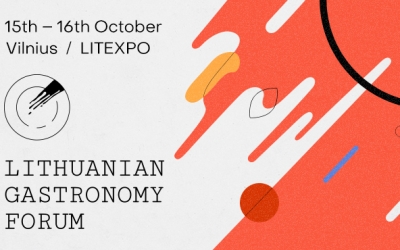 Lithuanian Gastronomy Forum 2019
2019 October 15–16
Opening hours
Lithuanian Exhibition and Congress Centre LITEXPO.
LITHUANIAN GASTRONOMY FORUM
October 15 -16th, 2019 / LITEXPO / Vilnius www.gastronomyforum.com
LITHUANIAN GASTRONOMY FORUM – is the first and one of a kind food and restaurant business forum in Lithuania that was first introduced to professionals and the general public in 2017. The event has a lot to offer for both: professionals and culinary enthusiasts who may be interested in joining restaurant business world. The forum is organized by Liutauras Ceprackas, one of the best chefs in Lithuania, together with Lithuanian Association of Hotels and Restaurants.
LITHUANIAN GASTRONOMY FORUM 2019 – The second Gastronomy Forum will be held on 15th – 16th October, 2019 at Litexpo event and exhibition centre in Vilnius. The topic of this Forum will be "Multiculturalism is the foundation of the new Lithuanian gastronomy". During this forum, we will seek to reveal the traditions and experiences of gastronomy in the world and European countries, their significance to the tradition of Lithuanian gastronomy, and to define the directions of further development of Lithuanian modern cuisine.
LITHUANIAN GASTRONOMY FORUM – an event during which we want to spread the message to Lithuanians and the world that we are a country that has for centuries been an area of interaction between different cultures and customs due to its geographical location and cultural tolerance, so we have remained very diverse in our gastronomic sense to this day. We are still searching for our gastronomic identity, so we invite the representatives of the gastronomy of different countries to discuss and share their experiences and hear their stories to help us find the answer – what is the new (modern) Lithuanian cuisine?
LITHUANIAN GASTRONOMY'S MULTICULTURALITY – Lithuanian cuisine, although formed on the basis of a medium-climatic zone, is unique in its multiculturalism. Various gastronomic traditions have taken over from other European and Middle Eastern regions: French mansions have been used in manors, Queen Bona Sforza introduced Lithuanians to Italian Renaissance culinary wonders; The Wall with the Ottoman Empire allowed us to take over the oriental cuisine and delicacies, and in the Middle Ages we discovered the Greek (Byzantine) and German gastronomic traditions. The contribution of all these nations and their representatives to our endlessly colorful culinary heritage is crucial. The contribution of national minorities is also significant: due to the large and intelligent Jewish community, Vilnius is even called Northern Jerusalem; even up to this day we have tartar and culinary delights brought to our country by the Karaites.
Gastronomy Forum 2017 video: https://www.youtube.com/watch?v=yJTuynMjRa0