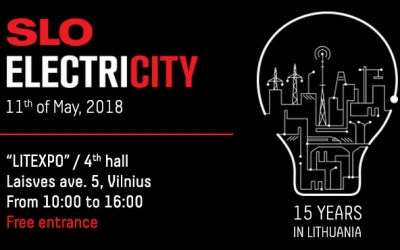 SLO Electricity 2018
2018 May 11
Opening hours
Lithuanian Exhibition and Congress Centre LITEXPO.
SLO Lithuania – one of the leading Lithuanian electrotechnical market wholesalers of electrical, electrical wiring, electrical engineering, telecommunications, lighting products and B2B solutions invites you to the 13 th annual expo "SLO Electricity 2018" , that will gather electrical engineering professionals from all over Europe. Annual exhibition is an exclusive opportunity to see world's most innovative electrical engineering products as wel as meet with the main market players. During the Expo you'll have a chance to visit participant stands and attend seminars where you'll hear about energy saving solutions, global manufacturing efficienty improvement trends, electrical products and solutons. The entrance is free of charge!