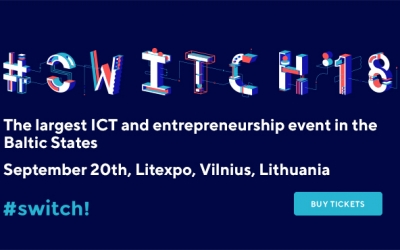 #SWITCH!
2018 September 20 d.
Opening hours
Lithuanian Exhibition and Congress Centre LITEXPO.
#Switch! 2018 (Professional's program)
#SWITCH! – The largest modern technology and entrepreneurship event in the Baltic region. The #SWITCH! event will be featuring: visionaries and leaders from highly successful digital business companies; representatives from world governments, public institutions, and the EU; and Lithuanian experts, all of whom will discuss European as well as global ICT trends and challenges!
For whom?
The Professional Program is designed for business and policy makers, visionaries, community leaders, technology experts, public sector representatives and those who:
• want to learn about the latest trends in global technology and innovation,
• to establish contacts with local or foreign investors;
• to expand the network of professional contacts;
• meet and discuss technological development with high-level foreign and Lithuanian business giants, the most promising representatives of the blockchain industry and policy makers from the institutions of the European Union, the governments of various continents;
• to hear practical advice, arguments on implementation of modern technologies in business or in the public sector.
More about the #SWITCH! 2018 program:
● Practical application of Blockchain technology in the logistics sector. How does blockchain technology help boost sector efficiency and transparency? What added value will the technology provide to the services and goods industry? Practical examples will be shared by companies already using the technology in the logistics sector.
● Crypto and ICOs Start-ups projects raised $4.2 billion in 2017 through ICOs. One could say that ICOs have been so instrumental to crowd funding that about 30% of all funding last year at the early stage came from ICOs. However, the ugly side of ICOs has already showed up – once you own a token, there is no accountability that it will do what was promised, or that the company will use the money to create a product. How can we distinguish between start-ups who are trustworthy and intend to carry out their business plan and create added value, and those which are potentially of poor reputation or at risk of disappearing? Is legal regulation of ICOs necessary in order to increase trust between start-ups and consumers who invest?
● The future of financial technologies (fintech) and Lithuania's potential in this field. The digitization of financial services is growing rapidly. Technological opportunities are improving every day. How do the latest technologies, such as artificial intelligence or blockchain, change the face of the fintech sector? Do traditional banks go in hand with this progress?
● Cybersecurity. Europe places great trust in new opportunities brought forward by the Digital Single Market (DSM). However, it also brings new challenges. Last year, there were more than 4,000 ransom ware attacks per day and 80% of European companies experienced at least one cyber security incident. In 2017 European Commission released the cyber security package in order to strengthen cyber resilience. Will it help European regulators to solve the problem of cyber resilience? Are the new technologies like AI and blockchain the key to an effective response against cyber threats? Which cutting-edge technology solutions could help businesses or governments to strengthen cyber resistance?
● Artificial Intelligence, IoT. From SIRI to self-driving cars, artificial intelligence (AI) is progressing rapidly. While there may be debate whether AI will transform our world in good or evil ways, something we can all agree on is that AI would be nothing without big data. Even though AI technologies have existed for several decades, its' "the explosion" of data that has allowed it to advance at incredible speeds. What are the major hurdles for AI to use big data in Europe? Will the EC proposed draft regulation on free flow of non-personal data help to boost AI in Europe? What impact will it have on AI and the possible frontrunner role of Europe in this area?
● Online platforms. Online platforms are strong drivers of innovation and play an important part of thriving Europe's digital economy. They increase consumer choice, improve efficiency and competitiveness of industry. At the moment, online platforms are not comprehensively covered by EU legislation. Is there a necessity to create a regulatory framework or it is rather wise for platforms economy to adjust themselves?
Speakers and participants
● Representatives of the European Commission, the European Parliament, various European and world governments; representatives of the world's largest companies, the most successful start-ups; technology and business experts.
● High-level speakers of 2015-2017: Vice-President of the European Commission Andrus Ansip, European Commissioner Vytenis Andriukaitis, MEP Eva Kaili; representatives of the governments of Great Britain, the Netherlands, Sweden and other countries; representatives of the Central Banks; global companies like Facebook, Nasdaq, Google, Amazon, King, NEM, MasterCard, Dash, Allegro, Uber and many more. The Program for professionals is just one part of the event. Other pillars of the event – youth and education programs, technology area, science fair, and hackathon. The entrance to these parts of the event is FREE! For more information, please visit: www.switchit.lt
Tickets for Professional's Program and VIP Party:
"Early bird" – July 25th – September 9th
● Entrance to the Professional Program – EUR 35
● Entrance to the Professional Program + VIP Party – EUR 100
"Late" – September 10th – 20th
● Entrance to the Professional Program – EUR 45
● Entrance to the Professional Program + VIP Party – EUR 110
Contacts Tel. +370 61141356, e-mail: mail: info@switchit.lt
More about the other pillars of the event
#SWITCH! 2018 Youth program
Are you active and interested in the latest technology news?#SWITCH! 2018 is dedicated to young decision makers, developers and engineers who see themselves running the world 10 years from now. This year, we will focus on introducing blockchain, career opportunities and improvements of tech-education in Lithuania. There will be inspiring stories which will encourage you to connect your future with the digital world, or perhaps help your decision about the ICT field you would most like to study in after graduating school.
#SWITCH! 2018 Technology space Traditional #SWITCH! Technology Fair is where you can try out the latest technologies and innovations. Learn to use a drone, participate in robot fights or check the virtual reality space.
#SWITCH! 2018 Science Fair At the Science Fair, representatives of universities, colleges, vocational schools and non-formal education from all over Lithuania will present study programs related to technology and entrepreneurship. By presenting this fair, we would like to attract school students' attention to the ICT sector professions. The ICT sector is currently experiencing a shortage of ICT experts and offers a great professional perspective. Therefore, during the event, we will deconstruct the myth that such professions are only for a narrow circle of young people.
#SWITCH! 2018 Educational program Teachers, educational representatives, and business representatives are invited to participate in a special section of the event – #SWITCH! Education. Professionals working in the field of education and other guests will share experiences, tackle challenges and help participants understand the benefits of the digital revolution in education. Industry leaders, education officials and experts will present and discuss relevant topics with teachers and academics from all over Lithuania.
Hackathon Hackathon is a combination of young people, professionals, developers, graphic and interface designers, product and business developers, and e-business and start-up enthusiasts who share their ideas and expertise. They will form teams to create new extraordinary e-business in the given time period of two days!
For more information, please visit: www.switchit.lt