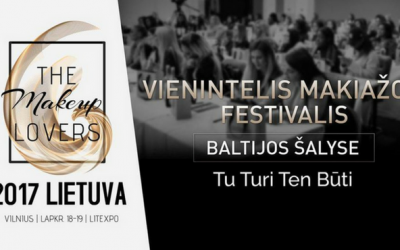 THE MAKEUP LOVERS 2017 LITHUANIA
2017 November 18–19
Opening hours
Lithuanian Exhibition and Congress Centre LITEXPO.
This is the second event of The Makeup Lovers organizers in Lithuania which gathers most famous local makeup artists, professionals from abroad, make-up companies, makeup lovers and most famous local bloggers under one roof. The event will offer exceptional makeup seminars, four three-hour long master classes with foreign professionals including certification, additional seminars and presents by top cosmetics companies. In addition to this, exclusive practical classes will be organized lead by foreign pros. Beauty Zone will also be one of the highlights, where everyone will be welcome to try beauty services and ask questions. Event is exclusively oriented to our audience, whose goal is to get knowledge, share experiences and ideas, get something new for their makeup bags and know more about new makeup techniques. We promise all this and more: good mood & friendly people guaranteed!