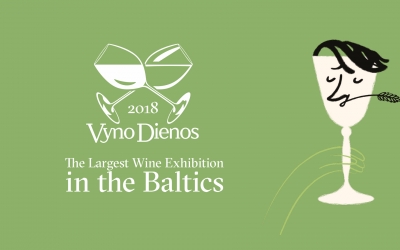 The wine exhibition "Vyno dienos"
2018 May 4–5
Opening hours
Lithuanian Exhibition and Congress Centre LITEXPO.
ORGANISED SINCE 2005 ANNUALY, VYNO DIENOS IS THE BIGGEST WINE EXHIBITION IN BALTICS.
In 2018, 14th exhibition will take place on 4th – 5th of May in exhibition center LITEXPO.
Wine and spirits producers, international importers, gourmet representatives, producers of glassware and wine accessories for two days may enjoy attention of more than 4000 visitors, 1500 of whom are professionals: sommeliers, restaurant staff, wine merchants, importers, journalists and bloggers.
On average, visitors spend 4+ hours in exhibition, taking part in tastings, lectures, blind tasting championship and seminars. Around 50 Lithuanian companies and more than 400 wineries are represented at the exhibition.