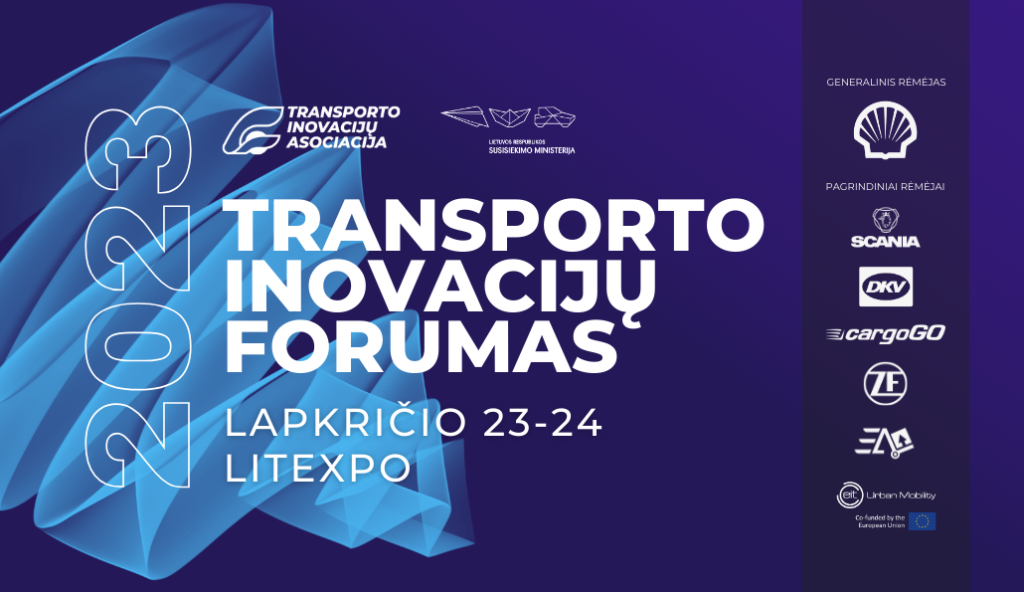 TRANSPORT INNOVATION FORUM 2023
2023 november 23 - 24 d.
Opening hours

23 november 09:00 – 17:00
24 november 09:00 – 17:00

Lithuanian Exhibition and Congress Centre LITEXPO
Join us at the 5th  Transport Innovation Forum in Vilnius, at  Exhibition and Congress Centre LITEXPO, on November 23-24, 2023. Organized by the Lithuanian Ministry of Transport and Communications and the Association of Transport Innovations, this forum aims to reflect the changing business models and future trends in the transport and logistics sector.
In recent years, the transport and logistics sector has faced numerous challenges, including the impact of COVID-19, the war in Ukraine, energy crises, and economic recessions. As a response to these disruptions, governments and businesses are embracing new solutions and implementing changes to build a resilient, effective, and sustainable transport and logistics economy.
The 5th Transport Innovation Forum aims at reflecting the changing business models and future trends. The event will gather together public authorities and private companies to discuss and share their views and ideas how to drive this sector towards innovative and effective transport logistics chains in Europe and beyond. Secure, resilient, climate neutral and paperless transport is the driving force, which impacts the cargo movements across the globe.
Engage in enlightening sessions, dynamic debates, and interactive workshops led by industry experts, government officials, and international organizations. Don't miss the opportunity to network with influential leaders from renowned companies, leading start-ups, and research institutions, fostering collaborations and knowledge exchange.
Register now to secure your participation in this influential forum, where you will contribute to driving innovation and shaping the future of transport and logistics.
More information: www.transportoforumas.lt