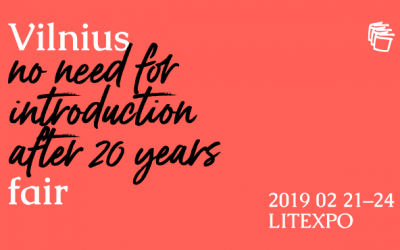 VILNIUS BOOK FAIR 2019
2019 February 21–24
Opening hours
Lithuanian Exhibition and Congress Centre LITEXPO.
The international Vilnius Book Fair celebrated its 20th anniversary. Held on February 21-24, 2019, with the slogan "20 years after" the Fair invited the exhibitors, guests and visitors to celebrate and evaluate the changes that happened in the life of literature, and to discuss what will come next.
Since its start in the year of 2000, the International Vilnius Book Fair is the biggest and most important book fair in the Baltic states. It gives a possibility to evaluate the whole publishing market of Lithuania and the neighbouring countries. At the same time it has become the well-known cultural event in Lithuania and the main annual meeting place of publishers, authors and readers that attracts more than 60.000 visitors. The Fair is visited by the stars of the literary and culture from all over the world.
Vilnius Book Fair welcomed 360 exhibitors from 8 countries,  54 foreign guests from 21 country of the world, and 68.430 visitors. There were held 546 cultural events.
The 21'st Vilnius Book Fair will take place on February 20-23, 2020. 
What is special in the Vilnius Book Fair?
Children's Book Hall – all the novelties of children literature presented by Lithuanian and foreign publishers, as well as the space, where children can play freely and meet their famous book characters on the stage.
Creative studio invites visitors of the Fair to take part in the creative workshops, readings, meetings with authors of children's literature, book illustrators from Lithuania and foreign countries. Creative studio is a part of Children's Book Hall and is initiated and organized by the famous Lithuanian artist Sigutė Chlebinskaitė.
LRT Hall + studio – the area, where Lithuanian National TV and Radio broadcasts radio and TV shows, makes live interviews with authors, gives live reports directly from the Fair.
Discussion club invites to enjoy serious discussions and intelligent conversations with well-known Lithuanian and foreign representatives of culture, art, business and science.
Music hall. Novelties of Lithuanian music publishers and performers with live music shows. Music hall is a new project to begin in Vilnius Book Fair 2015! Organizer – association AGATA.

Library open. Friendly and modern library created by the Lithuanian Librarians Association. One more space devoted to reading and networking.
The Bouquiniste Passage. A different area for those visitors who adore reading and collecting second-hand books or listen to the vinyl plates.
The Book Cinema Hall. The screenings of the latest movies made after well-known novels, and documentary films about writers, poets and artists.