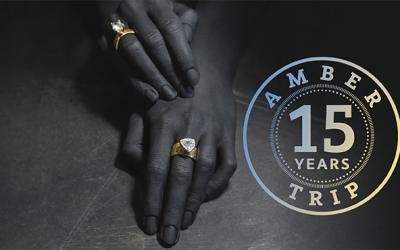 XV international Baltic jewellery show "Amber Trip"
2018 March 14–17
Opening hours
Lithuanian Exhibition and Congress Centre LITEXPO.
As every year, in spring, the International Baltic Jewellery Show "Amber Trip" will invite everyone to Vilnius, the jewellery capital of the Baltic states. The XV international jewellery and amber show, which is the only event of such magnitude in the Baltic states, will be held on 14-17 March 2018.
"On the XV anniversary year of the show we expect to receive nearly 200 participants from the Baltic states, Poland, Turkey, Italy, Ukraine, Russia, USA, India and other countries. We will also have at least half a thousand of important buyers (wholesalers, museums, collectors) from around the world – Europe, Australia, China, India, Saudi Arabia, United Arab Emirates, Turkey, USA and other countries. This would be a record number of participants and buyers", – says "Amber Trip" organizer Giedrius Guntorius.
The only jewellery event in the Baltic states is attended by professional jewellers and designers, as well as manufacturers of technological equipment and devices. The event includes the presentation of the latest jewellery industry technologies, trends in the amber jewellery and crafts market, and the latest works of professional jewellers around the world. Around 60 percent of the exhibition's area is used for presenting jewellery works and around 40 percent – exclusively for amber.