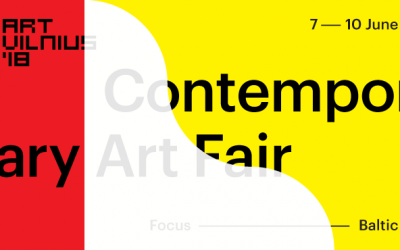 ART VILNIUS 2018
2018 June 7–10
Opening hours
Lithuanian Exhibition and Congress Centre LITEXPO.
The International Art Fair ArtVilnius'18 will take place on 7-10 June with a programme dedicated to the centenary of Lithuania's statehood. The main Art Fair's focus will be on Baltic art. It is for the first time when the best Baltic galleries, artists and art institutions will gather in one place.
Visitors will also be able to see the offerings of 55 contemporary art galleries, meet artists from France, Poland, the UK, Georgia, Latvia, Italy, Estonia, Denmark, Russia, Spain, Belarus and Ukraine. The full list of participants is accessible here: www.artvilnius.com/participants
The art fair's exclusive partner Lewben Group is presenting Lewben Art Foundation's international exhibition which includes some world-class names. The project space at LITEXPO will host an exhibition by the Museum of Contemporary Art in Kraków (MOCAK), art by the Baltic Young Artist Award winner Katrina Čemme, Lithuanian National Prize laureates Gintaras Makarevičius, Svajonė & Paulius Stanikas. The Estonian star Marko Maetam is also among the guests of ArtVilnius'18. The international exhibition of sculpture, installation and performance, The Path, is introducing 35 artists from nine countries.
ArtVilnius'18 educational programme is intended for both young visitors and adults. In addition to creative assignments, the participants will be able to try out new artmaking techniques and make their own artworks.
Organiser –  Lithuanian Art Gallerists' Association. 
More information available at www.artvilnius.com