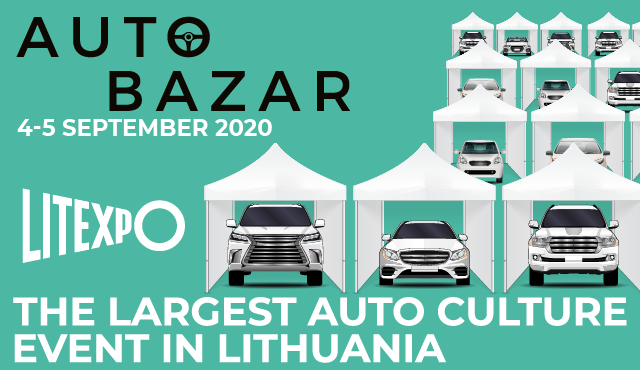 AUTO BAZAR 2020
2020 September 4–5
Opening hours

Penktadienis Rugsėjo 4d. 12:00 – 19:00

Šeštadienis Rugsėjo 5d. 11:00 – 19:00

Lithuanian Exhibition and Congress Centre LITEXPO.
For the third time in Lithuania, the exhibition AUTO BAZAR will invite you to take part in the largest exposition and show of new car models, motorcycles, electric cars and other transport vehicles.
Visitors will discover new models of transport vehicles sold in Lithuania and will be able to try them in test drive area.
TICKETS AVAILABLE ONLY ONLINE !
Only at AUTO BAZAR – in one place:
The largest test drive area in Lithuania – demonstration and testing of new car models
Best Classic Auto  –  exhibition of unique vintage cars
Racers' Mechanics – racing cars made for sports and rally racing cars
Exhibition of car and motorcycle parts and accessories, repair and maintenance services, car wash services, insurance and leasing services, driving schools
Display of exclusive, rare tuned car models
Electric car exposition