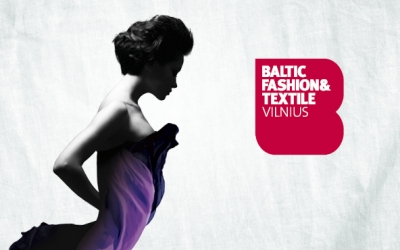 BALTIC FASHION & TEXTILE VILNIUS 2018
2018 October 18–20
Opening hours
Lithuanian Exhibition and Congress Centre LITEXPO.
27th international specialized exhibition for fashion and textile business
BALTIC FASHION & TEXTILE VILNIUS has developed to the biggest fashion and textile fair in the Baltic States and this year expects more than 460 participants from 26 countries. We invite companies to present textiles, raw materials, clothes, accessories, new technologies and manufacturing equipment. More information and registration: WWW.BALTICTEXTILE.EU . 
THE MAIN SECTORS ACCORDING TO PRODUCT GROUPS
TEXTILE AND TECHNOLOGIES – for industry professionals. Hall 5.
Fabric, non-wovens, home textiles, interior decorations, technical textile, yarns, threads, textile accessories, subsidiary materials. Innovations, technologies, production equipment, commercial equipment, logistics and storage, packaging, r&d, consultancy, services.
FASHION AND STYLE – for traders and consumers. Hall 3.
Fashion brands; outwear and knitwear for women, men and children; workwear and uniforms, underwear, sportswear, leather and fur wear, clothing accessories, designers, jewelry. Leather, leather haberdashery, work and special footwear, women, men and children shoes, crafts.
OTHER EVENTS:
BALTIC FASHION OUTLET – a new market place for apparel industry professionals. ADCUM, Hall 3 lobby.
The Baltic (Lithuanian, Latvian, Estonian) apparel manufacturers are welcome to present the exclusive range of their products – clothes and fashion accessories – to the visitors of the international trade fair Baltic Fashion & Textile Vilnius and promote the local apparel manufacturers brands. Registration.
FASHION BAZAAR – the biggest fashion and exclusive style works market place in all Lithuania (organizer – UAB Inzi group, e-mail info@fashion-bazaar.eu). Hall 4.
VILNIUS FASHION CONFERENCE and Seminars for industry professionals. CATWALK / FASHION SHOW.