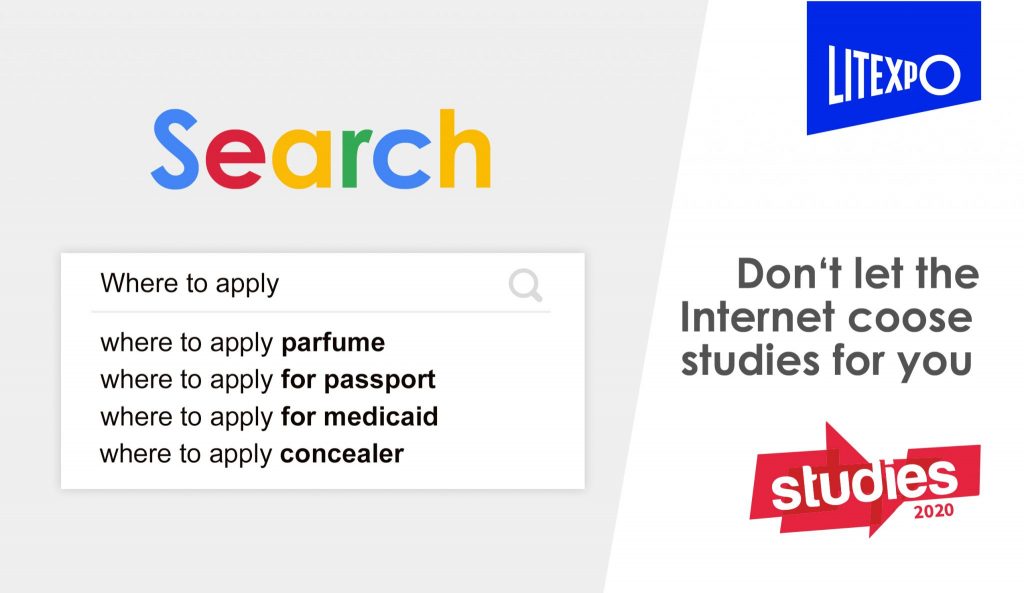 STUDIES 2020
2020 February 6–7
Opening hours
Lithuanian Exhibition and Congress Centre LITEXPO.
We would like to express our gratitude to you all, our dear participants in the exhibition STUDIES 2020. We are delighted that this year the exhibition was full of joyful voices of pupils and teachers, interesting, useful and informative events, practical activities and entertainment! We are pleased with this year's results and say a big THANK YOU for being together!
The organisers of the STUDIES 2020 exhibition
EXHIBITION MOMENTS HERE!
How do you make sure you are needed in the future? How do you choose an occupation that you never have to regret? These are questions asked by many young people at the crossroads of their future path.
Find answers to your questions at the 18th International Exhibition of Knowledge, Education and Career Planning Exhibition STUDIES 2020.
STUDIES 2020 is the largest study and career planning exhibition in Lithuania and the Baltic states. The exhibition gathers under one roof a huge selection of learning services as well as additional possibilities:
Lithuanian university, non-university, and vocational higher education schools;
Educational and expert organisations;
Foreign universities;
Businesses, non-formal education, career consultations;
Language courses;
International examinations and other alternatives, such as travelling, volunteering and gap year.
THE INTERNET won't choose one's STUDY PROGRAMME 
Search for relevant information through direct interaction at the exhibitors' stands as well as at lectures, non-formal meetings with representatives of educational and business institutions, career consultants, and members of pupil and student organisations. The exhibition encourages one to come, be engaged, ask questions, communicate, compare, draw conclusions and make a choice.
THE EXHIBITION'S THEMATIC HALLS
Every year, the STUDIES exhibition reinvents itself, adding relevant topics and expositions presenting said topics as well as new events that occupy all the LITEXPO conference halls and the additional event spaces: UNIQUE ME, consulting space KNOW YOURSELF, STEAM SPACE, the Teachers' Room, Lifelong Learning Space, etc.
STUDIES 2020 will occupy four exhibition halls:
HALL 5: higher university and college education in Lithuania, educational organisations, STEAM space, career consulting space KNOW YOURSELF.
HALL 4: career planning fair CHOOSING A PROFESSION: presentation of the market's most relevant professions, vocational training and education, presentation of civil services, Lithuanian army, and professional excellence competitions.
HALL 3: international study programmes, language courses, international examinations, business proposals for traineeships and additional jobs for spare time. New: gap year proposals.
NEW. Hall 1: Lifelong learning
THE INTERNET WON'T HELP FIND YOURSELF
The new topic, 'Lifelong Learning', was dictated by the need to talk about what competences and knowledge are needed right now as the labour market is facing a shortage of qualified professionals and more and more people are choosing jobs that bring them joy and become a hobby. If you want to change or try yourself in another field, you are looking for new opportunities or knowledge – this is the topic for you!
See you in February 6-7th!